[ad_1]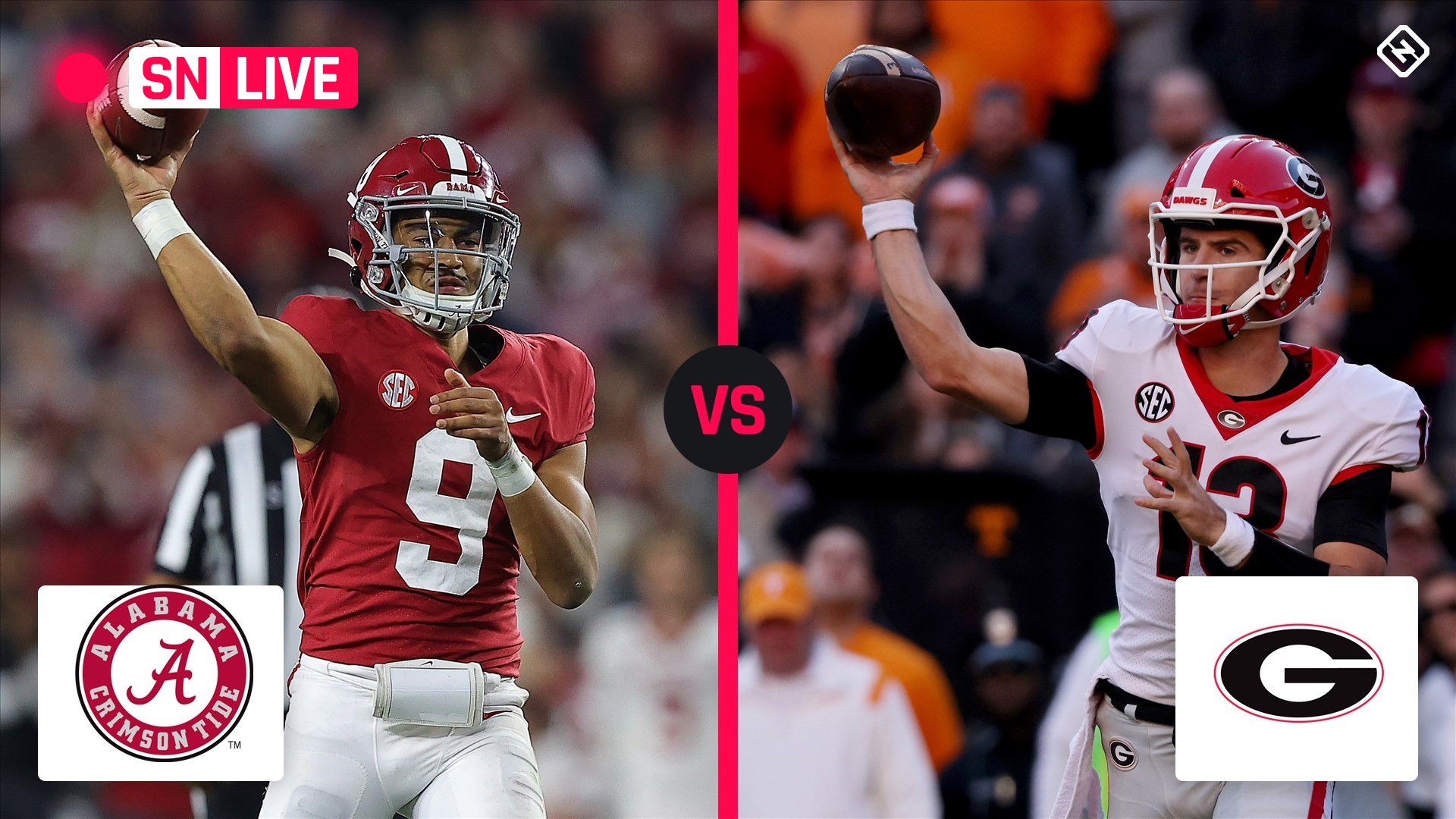 Much ado has been made about Nick Saban's sterling record against his former assistant coaches.
Saban came into the season with a perfect 23-0 record against those who have spent time under him on a coaching staff. That streak came to an end in 2021, when Alabama lost to Texas A&M and Jimbo Fisher on Oct. 9. Now, Kirby Smart and No. 1 Georgia are looking to add one more to the loss column with a win in the SEC Championship Game on Saturday.
MORE: Can Alabama reach the CFP with a loss?
The Alabama hurdle has been one Georgia has struggled with in the past. The Bulldogs have lost every matchup against the Crimson Tide dating back to 2008. But this feels like Georgia's best chance in a long time, as the Bulldogs have dominated each week. They have run the table on their schedule, and only once has a team been within two touchdowns. 
Can Georgia's No. 1 defense and Stetson Bennett-led offense lead Smart to his first win against Saban? Or will Heisman favorite Bryce Young be the first player to light up the Bulldog offense?
MORE: When is Bryce Young eligible for the NFL draft?
Sporting News is tracking live scoring updates and highlights from No. 1 Georgia vs. No. 3 Alabama on Saturday. Follow below for complete results from the 2021 SEC championship game.
MORE: Watch the 2021 SEC championship game live with fuboTV (7-day free trial)
Alabama vs. Georgia score
| | | | | | |
| --- | --- | --- | --- | --- | --- |
|   | Q1 | Q2 | Q3 | Q4 | F |
| Crimson Tide | 0 | 17 | – | – | – |
| Bulldogs | 3 | 14 | – | – | – |
Alabama vs. Georgia live updates, highlights from 2021 SEC championship
5:34 p.m.: Alabama starts its drive from the 25 with 2:06 left in the half.
5:31 p.m. Georgia scoring play: Bennett hits McConkey with a screen pass, and he breaks loose, scoring a 32-yard touchdown to tie the game. Alabama 17, Georgia 17
5:30 p.m.: McIntosh gets an 11-yard gain on the ground — with no penalties — and Georgia is up to the Alabama 32.
5:29 p.m.: Deep shot from Bennett out to McConkey falls short, but Branch is called for a pass interference penalty. Flags flying on each play of this drive so far. 
5:28 p.m.: A holding penalty flag on Georgia, then a pass interference penalty by Alabama. Georgia is now up to its 42 with 2:51 left in the half.
5:26 p.m.: Georgia began its drive from the 25, and Josh Jobe is called for a holding that gives the Bulldogs a first down up to the 35.
5:23 p.m. Alabama scoring play: Young is flushed out on 3rd-and-2 from the Georgia 15 and his pass is incomplete to bring up fourth down. Will Reichard makes the 33-yard field goal to extend the Alabama lead. Alabama 17, Georgia 10
5:21 p.m.: Young now getting it done with his legs, scrambling 15 yards out to Georgia's 23.
5:18 p.m.: Young is hit as he throws, but Jahleel Billingsley makes the catch for a 22-yard gain. Robinson follows that up with a 15-yard rush to move the Crimson Tide into Georgia territory.
5:14 p.m.: Another great punt by Jake Camarda. 65-yard punt will spot Alabama at its own 5-yard line.
5:13 p.m.: Bennett's pass falls short, and Georgia will go three and out again. 
5:11 p.m.: Georgia back out on offense at the 25 trailing by four points with 9:46 left to go in the half.
5:07 p.m. Alabama scoring play: Young finds Metchie in the end zone for a 13-yard touchdown pass to give Alabama the lead. Alabama 14, Georgia 10
5:06 p.m.: Young was nearly tackled for a loss, but flips the ball to Brian Robinson on a lateral for a 13-yard gain.
5:04 p.m.: Incredible catch by Metchie at the 50-yard line following a holding penalty moves the Crimson Tide up 40 yards. The next play, Williams catches a short pass along the right sideline and drives it up 23 yards to put the Tide in Bulldog territory.
5:00 p.m.: Bennett's pass falls incomplete, and Georgia goes three-and-out. The Bulldog punt goes into the end zone for a touchback, and the Crimson Tide will come back out to their 20.
4:58 p.m.: Georgia will begin from its 25 on the touchback.
4:54 p.m. Alabama scoring play: It doesn't take long for Alabama to respond. Young finds Williams wide open down the middle of the field, and he speeds away down the left sideline for a 68-yard touchdown. Georgia 10, Alabama 7
4:52 p.m.: Touchback for Alabama. Crimson Tide will start at the 25.
4:50 p.m. Georgia scoring play: Darnell Washington just leaps over the Alabama linebacker to haul in a floating pass from Bennett for the 5-yard touchdown. PAT is good. Georgia 10, Alabama 0
End First Quarter
4:46 p.m.: White rushes for three yards to the Alabama 5 for the final play of the first quarter. Bulldogs will start the second in a great position to score.
4:45 p.m.: Another huge play by the Bulldog offense. George Pickens catches a 37-yard pass from Bennett at the Alabama 8. The Bulldogs are cooking.
4:44 p.m.: Cook picked up the first down on the ground at the 33, and Bennett follows that play up with another big pass, this one for 22 yards, to John FitzPatrick to put Georgia at the Alabama 45-yard line.
4:43 p.m.: Bennett rolls out of the pocket on second down and finds Jermaine Burton for a 16-yard gain up to the 21.
4:38 p.m..: Khyree Jackson catches the punt from Burnip at the Georgia 3-yard line. Bulldogs will take over with 3:32 left in the first quarter.
4:37 p.m.: Young has three straight incompletions, and Alabama will be forced to punt again.
4:36 p.m.: Young finds Slade Bolden up the middle for a gain of six to give the Tide a first down. Two plays later, he hits Cameron Latu for a 13-yard gain to move the Crimson Tide up to the Georgia 43.
4:34 p.m.: CBS broadcast reporting that Bowers is in the medical tent after he made that 18-yard catch earlier in the game.
4:33 p.m.: Alabama will take the touchback and start at the 25.
4:29 p.m. Georgia scoring play: Bennett is sacked on third down back at the Alabama 21. Jack Podlesny drills a 38-yard field goal to give Georgia the lead. Georgia 3, Alabama 0
4:27 p.m.: Big completion from Bennett out to Brock Bowers for an 18-yard line that gives the Bulldogs a first down at Alabama's 18-yard line.
4:24 p.m.: On a 3rd-and-1, Cook takes a handoff on a sweep and hits the gap for an 8-yard rush and a first down at the Georgia 44-yard line.
4:19 p.m.: A quick pass to John Metchie on third down goes incomplete. Alabama punts the ball away. Georgia will start its drive from its own 27-yard line.
4:18 p.m.: Alabama immediately starts its drive with a 10-yard pass to Jameson Williams for a first down.
4:14 p.m.: Stetson Bennett's pass on fourth down is nearly intercepted by Jordan Battle, but it will fall incomplete. Georgia will punt the ball from the 50. The ball is fair caught at the Alabama 8-yard line.
4:12 p.m.: First offensive play of the game is a pass to James Cook, who takes the ball to the left for a 14-yard gain. A late hit penalty on Alabama moves the Bulldogs into Crimson Tide territory at the 46-yard line.
4:11 p.m.: Georgia starts with the ball, and returns the kickoff out to the 25-yard line.
4:00 p.m.: This game is minutes away. Nick Saban is looking to win his ninth SEC title. Kirby Smart looking to win his second.
3:33 p.m.: Less than 30 minutes until this game is scheduled to begin. These teams are ready for the biggest game of the year.
Alabama vs. Georgia start time
Kickoff: 4 p.m. ET, 1 p.m. PT
The Crimson Tide and Bulldogs are scheduled to begin their clash in the SEC Championship at 4 p.m. ET on Saturday.
What channel is Alabama vs. Georgia on today?
The SEC Championship Game will be carried by CBS. Those looking to stream the game can find it on Paramount+ or on fuboTV, which offers a 7-day free trial.
College football schedule Week 14
Here's a look at all the games going on around championship weekend, with times and channels. All times are Eastern.
| | | |
| --- | --- | --- |
| Game | Time | Channel |
| No. 9 Baylor 21, No. 5 Oklahoma State 16 | 12 p.m. | ABC |
| Northern Illinois 41, Kent State 23 | 12 p.m. | ESPN |
| Utah State at No. 19 San Diego State | 3 p.m. | Fox |
| Appalachian State at No. 24 Louisiana | 3:30 p.m. | ESPN |
| No. 1 Georgia vs. No. 3 Alabama | 4 p.m. | CBS |
| No. 21 Houston at No. 4 Cincinnati | 4 p.m. | ABC |
| No. 2 Michigan vs. No. 13 Iowa | 8 p.m. | Fox |
| No. 15 Pitt vs. No. 16 Wake Forest | 8 p.m. | ABC |
| USC at Cal | 11 p.m. | FS1 |


[ad_2]
Source link